Although nothing can replace a trekking experience to experience mountains, nothing can also replace a train experience around the mountains 😊. Agree?
Then there is cable car experience too. And what about experiencing mountainous emptiness below your feet in a glass room with a glass floor at The Step into the Void, situated off the uppermost terrace of the Aiguille du Midi at an altitude of 3842 meters?
Advertisements have played a major role in taking us to such experiences.
Today, let us turn a leaf from the history of tourism advertisement posters and see: What Did Roger Broders Do to Promote Rail Tours Around Mont Blanc?
Let us discover:
How an Artistic Detour Helped Promote Rail Tours Around Mont Blanc?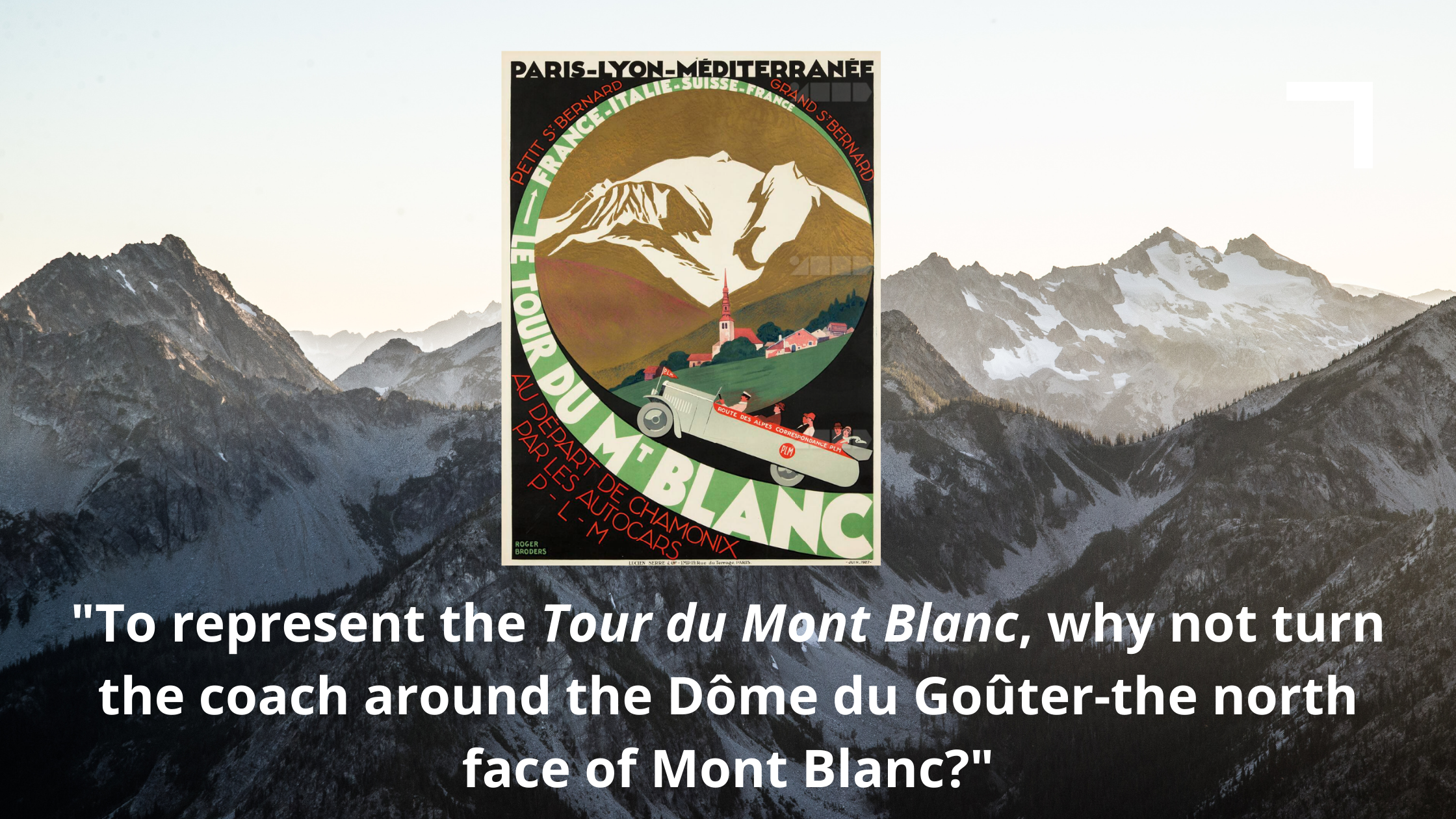 These days we get to know about the possibility of having these experiences via travel vlogs, travel channels on television, digital advertisements, YouTube videos, etc. And those who love traveling keep themselves up to date by subscribing to these mediums.
Back in the 1900s, they were using advertisement posters created using various lithographic techniques to invite people to have such majestic experiences.
Today, let us read a moment from the history of advertisement invitations by railway at Chamonix valley situated at the base of Mont Blanc occupying a central position in railway tours around Mont Blanc—Le Tour Du Mont Blanc.
Presently it's SNCF, France's national state-owned railway company that provides the Alpine experience at France's side of the Alps. But back then PLM—the precursor of SNCF—was the one which was responsible for this job.
So, traveling back in time to 1857 when the formation of PLM (Chemins de Fer de Paris à Lyon et à la Méditerranée/ Paris-Lyon-Méditerranée railway) which got replaced by SNCF in 1938 following grave social unrest, made the experience of experiencing the alpine snowy beauties a little bit easier and more inviting to those of us who would rather prefer watching them through a screen than being frozen out in the open.
To invite people for experiencing the Alps via rail, PLM commissioned artists to create posters. Some of PLM's most famous posters were made by Roger Broders. Have a look at one of his creations below: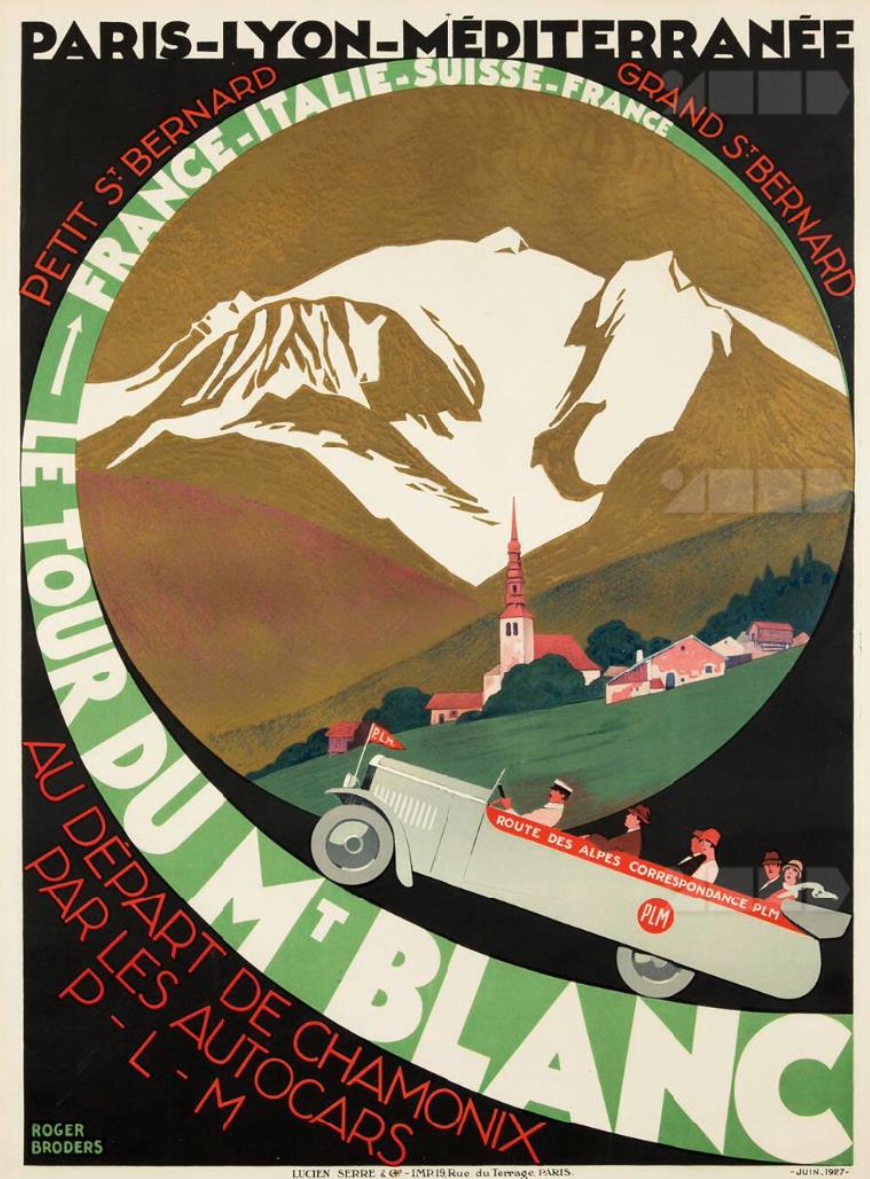 Source: www.iaddb.org
This poster was designed by Roger Broders in 1927 and about this poster Heritage Posters mentions,
"This poster isn't in Roger Broders usual style of dramatic, full poster images of scenic beauty, often using simple lines and bold flat areas of color. Instead for this 1927 PLM poster, he has featured a stylized image of Mont Blanc and a village with a church and framed it with a black circular border. An open-top automobile climbs up the text, gently curved around the image as though it were a road on the mountain pass. It's a sought-after poster and highly collectible. For the original poster, the printers used metallic ink for the mountain."
Boutique Clouet: Deco Vintage, an authority in transmitting their passion for the heyday of advertising posters, writes about this poster:
"Broders, who liked to draw inspiration from existing images rather than landscapes to create his works, was surely familiar with Brunet Péan's posters on the Route des Alpes. He chooses to be inspired by it, with a twist: to represent the Tour du Mont Blanc, why not turn the coach around the Dôme du Goûter (the north face of Mont Blanc)? This vintage poster is one of Broders' most ingenious compositions."
The status of PLM was such that fame and glory were sure for the artists who got commissioned by it. Roger Broders ingenious art was supported by this status. And PLM's advertising posters plus marketing campaigns had an enormous impact on France's tourism industry.
More than one reference indicates that PLM was once Mont Blanc of tourism advertising in France.
But this blog post would be incomplete without mentioning that PLM Agenda was also part of the International Colonial Exhibition in Paris which "portrayed the French colonies and the role played by the French in a romanticized manner." The PLM Agenda page on the Koninklijke Bibliotheek (National Library of the Netherlands)  mentions, "the main objective of the Paris exhibition was to show the whole world and the common people that colonial France was leading a mission of civilization."
Wow! How did I manage to reach from mountain trekking experience to colonialism?
A mystery that is.
Coming back to our poster. With this poster, Roger Broders while taking a slight detour from his usual style, created for us an example depicting what perspectival shifts can do.
I hope you have had a nice reading experience today if not a mountain one. If you find it worthwhile and wish to encourage discussion, share this post with your friends and family.
The poster collection is made accessible by the collaboration between Design Museum Dedel and Reclame Arsenaal (IADBB). For more such interesting stories follow us on Instagram, Facebook and maybe visit our museum.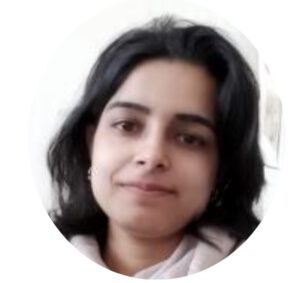 Chandrita Jaisinghani
Chandrita is a continuous learner passionate about writing, creation, and marketing. She loves accessing and assessing her inner self through poetry and literature. Learn more about her on her website. You can also reach her at chandritawriter@gmail.com.